Climate Solutions 8000 Series Double Hung Vinyl Window
The double hung vinyl window is an American Classic; timeless and elegant.  Climate Solutions has been making premium quality windows for over a decade now and the 8000 Series is the culmination of those years of experience.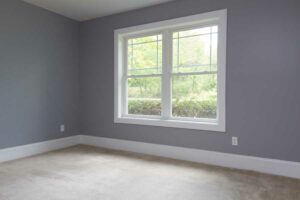 Anatomy of the Window
As with all Climate Solutions products, the focus is on quality first – with all components made in the United States of America – meaning the window is truly Made In The USA, not just assembled here.  That includes the night-locks, the tilt-latches, even down to the weep-holes and the sloped-sill.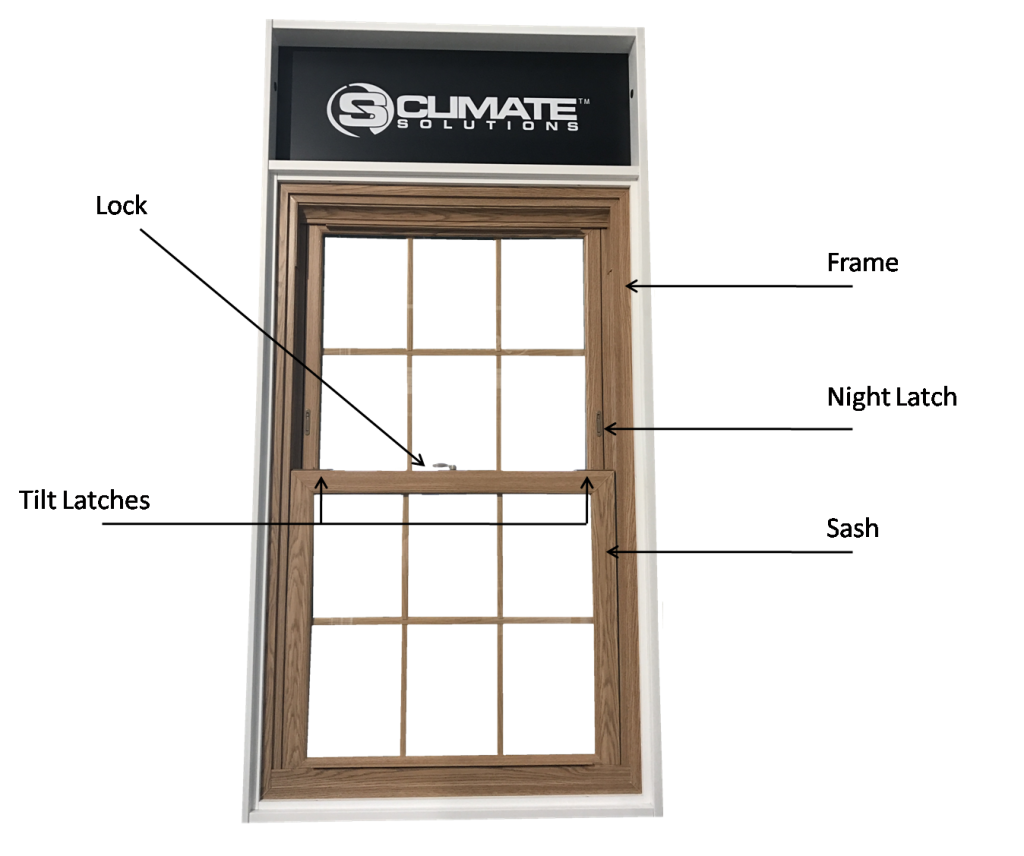 Easy Cleaning
The Double Hung Vinyl Window has two sashes, that move vertically up and down.  For ease and convenience these sashes can be tilted in for cleaning – although they must be moved at least 3″ away from their closed position before titling.

Security & Locking
The Double Hung Vinyl Window also comes with Night-Locks for security – these allow the window to be open for ventilation without compromising security.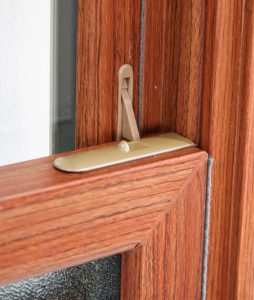 The locks on a window are often ignored but in the 8000 Series we chose to use integrated locking hardware, which is recessed into the sash frame.  Not only does this give the tightest seal, it is an ultra-secure cam-lock meaning giving safety and peace of mind.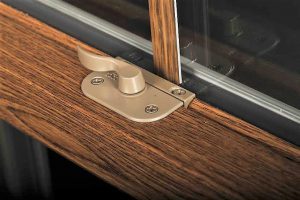 CS Ultra Spacer
All Climate Solutions windows feature our CS Ultra Spacer™ technology. This is our foam spacer, which gives superior performance to the more common metal spacer.  It has a secondary seal and features Hot Butyl Melt as an insulator and for barrier protection.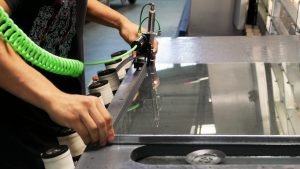 Sloped Sill & Accessories
A key ingredient in the success of the 8000 Series Double Hung is its sloped sill design, meaning excess water simply runs off. Other manufacturers may prefer the pocket sill, which is cheaper to produce but is simply out-performed by the sloped sill.

For increased structural support there is the option of the Innergy® reinforcement, made from Rovex® Fiberglass composite it is stronger than steel and is thermally superior.
Another option is our Soy-Based Insulating Foam, the only USDA certified foam available on the market.  In the Double Hung this can make the difference between hitting Energy Star® 3.1 and missing it.
All 8000 Series Vinyl Double Hung Windows come with extruded aluminum half screens, as opposed to the cheaper roll form screens often favored by our competition.  The extruded aluminum half screens are heavy duty and designed to last a lifetime and can be upgraded to a full screen.  Another option is to go for the revolutionary Flex Screen, which will match any color finish and is robust and easy to install and remove as needed.
Summary of Features
Multi-chamber virgin-vinyl frame and sash
The CS Ultra Spacer™ foam spacing system for optimal efficiency and performance
Sloped sill design with built-in weep system ensuring water cannot build up
Constant-Force Balance System for easy operation
Night Locks
Easy-Clean Tilting Sashes
Precision made U-Direct Hardware
If you're looking for a Climate Solutions authorized dealer get in touch with us through our contact page or alternatively call the office on 1.847.233.9800.