Bay windows can match any architectural house style, from Victorian homes to contemporary homes. They provide additional space to the room and also more natural light. Traditional bay windows are a combination of a central picture window with an operable window on each side. Due to their angular design, and since they extend beyond walls facing different angles, you will get more light and air than flat window types. These three angled window panes were originally used as ornamental details to buildings, but architects discovered they provided so much more over the years. There are various styles and additional architectural details, such as window seats for this window type.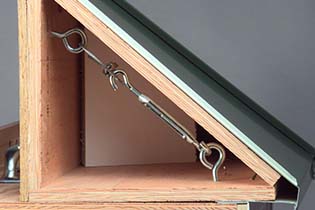 Turn-Buckled Cable Support System
Used to support the frame from the top. The bay/bow head component is connected to the vertical mullions using 6" Eyehook Lag Bolts. This provides internal support and makes your windowseat strong enough to be a seat.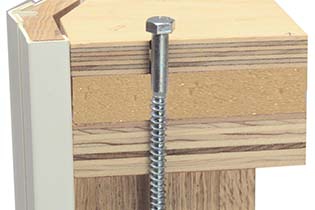 Timberstrand Laminated Lumber Mullions
We use a solid wood mullion design that is lag bolted to the head and seat for maximum strength and support. Timberstrand is 25% stronger than standard wood and will not warp or twist like typical ponderosa pine. Most companies use a vinyl mullion, providing little support, and can cause the window to sag and cause water infiltration!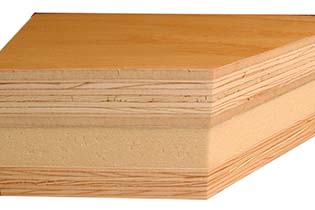 Triple Layer Insulated R-9 Super Seat
Deluxe Super Seat utilizes a 1" High-Density Polyisocyanurate Foam Core (Dow® Tuff RTM) yielding an R-9 Insulating Value. 67% thicker and stronger than the competitors 3/4" design for maximum thermal efficiency.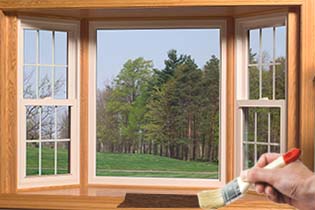 Pre-Finished interior Color Options
Choose to have your Bay or Bow window factory pre-finished for that perfect look. Available in White, Almond, Light Oak, Dark Oak, Colonial Cherry, Soft & Rich Maple, Natural,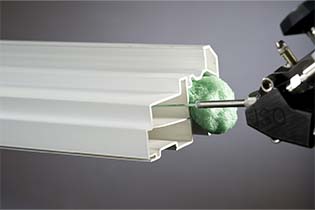 High Performance Bio Foam Option
Environmentally friendly USDA certified soy based bio foam option for increased thermal performance increasing energy efficiency.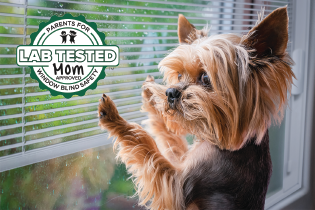 Blinds Between The Glass Option
Blinds Between the Glass incorporate traditional window blinds between two glass panels so they are completely enclosed which means no dust collects on blinds, and they stay beautiful for years.