Experience the Superiority of Laminated Window Colors with Exterior Laminate Windows
In the world of window solutions, laminated window colors have been making waves due to their unrivaled durability, and cutting-edge features. The exterior laminate, a robust film, is revolutionizing the replacement window space, outperforming traditional painted windows in terms of longevity. Providing superior protection and color that lasts.
The Power of Solar Shield Technology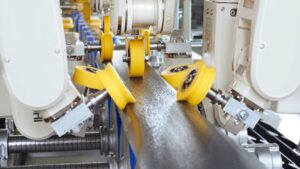 One of the standout features of exterior laminate window colors is the integration of the innovative Solar Shield Technology (SST). SST ensures enhanced color stability in top-grade color pigments in both the base film and printing inks. This combination greatly reduces fading over time. More than that, SST curbs heat build-up in the profiles, contributing significantly to the laminate's impressive weather-ability.
Enjoy the Benefits of Laminated Window Colors:
Superior Protection: Exterior laminate won't chip, crack, blister, or chalk, offering you unprecedented protection.
Outstanding Weather-ability: These windows are designed to withstand the harshest weather conditions, guaranteeing impressive impact resistance.
Heat-Reflective Technology: The windows use cutting-edge technology to offer superior resistance to Ultraviolet light and heat build-up.
Sustained Scratch Resistance and Aesthetics: The embossed finish enhances the windows' beautiful appearance and ensures sustained scratch resistance.
Thicker Laminate: The laminate is about 8 times thicker than most painted products, ensuring durability and robustness.
Low Maintenance and Weather-Proof
Laminated window Colors with exterior lamination are exceptionally low maintenance. Warranted against cracking, fading, peeling, and warping. Built to handle even the worst weather conditions, these windows score high on longevity and performance.
Laminated Window Colors are available on our 8100 Series Windows, along with casement windows, awning windows & hopper windows.
Click the flyer to download